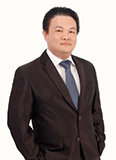 Prof. Goh Hui Hwang(Link)
Guangxi University, China
Brief introduction:
Ir. Dr. Goh Hui Hwang is a practising electrical consultant and Registered Electrical Energy Manager. His technical interests and expertise include electrical engineering, power systems, renewable and sustainable energy, embedded power generation, wavelet analysis, load shedding, and data mining. Since 2008, Ir. Goh has been dedicating his profession to leading various research projects, putting his main focus on fostering innovation, development, and
testing of new technologies that can be used to address sustainable energy issues in the developing world. He has won medals from many international
expos, for the significant contributions of his innovations to the progress and welfare of the community. On top of his academic leadership, Ir. Goh furthercontributes to the promoting and fostering of the development of science, engineering and technology as an Associate of the Academy of Science
Malaysia. He is a member of the Senior Evaluation Panel for Engineering Accreditation Council (EAC) of the Board of Engineers Malaysia (BEM). Besides, heis also active in The Institution of Engineers, Malaysia (Southern Branch) as the Advisor of IEM Student Section UTHM.